Canada
How To Apply For Canadian Visa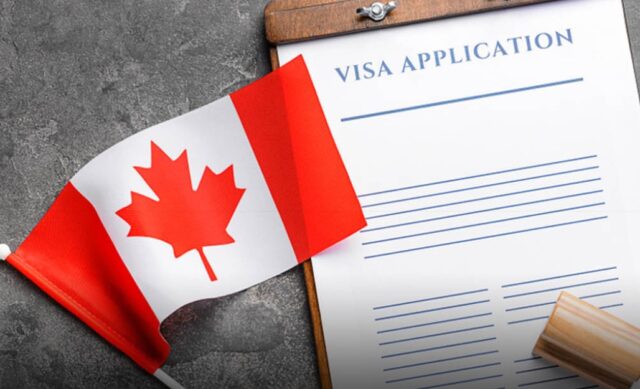 This article is a comprehensive guide on how to apply for Canadian visa. We've also talked about the different visa types and other vital information regarding visa application to Canada.
Canada is a country in North America that is situated directly above the United States and is considered a developed country. The number of people wanting to visit Canada has gradually increased in recent years, but most people are unsure how to get there. A visa for Canada is a stamp in your passport that allows you to visit the country.
It is a permit that allows you to enter the country and remain legally, either temporarily or indefinitely. Obtaining a visa to Canada signifies that the Canadian Consulate or Embassy in your home country has determined that you are qualified and meet the entry criteria. When you arrive at the Canadian border and customs, however, it is up to the border officers to determine if you are fit to join. If you answer the questions honestly and correctly, the Canadian Border Services Officer (BSO) will let you in. Otherwise, even though you have a Canada visa, if they suspect you are not able to enter, they can refuse you and ask you to return to your home country.
Read also: Canadian Universities Tuition Fees
Who can apply for a Canadian visa?
Visas are required for visitors from countries that do not have a visa exemption or an Electronic Travel Authorization (eTA) agreement with Canada. People from 148 countries, in particular, need a visa to visit, work, or immigrate to Canada.
You must apply for a visa to enter Canada if you are one of these applicants. You may have a different method of applying depending on the type of visa you seek, but there are a few basic steps you must follow.
Canada visa types
Before you apply for a Canadian visa, you should first know which visa you are looking for. Find below the different types of Canadian visas:
Visitor visas.
Student visas.
Work visas.
Permanent Residence visas.
Business Immigrant visas.
Express Entry Program visas.
Temporary stay Canadian visas
Temporary stay Canada visas allow visitors to remain in the country for a set period of time determined by the Canadian Consulate or Border Services Officers (BSO). This period will last up to six months. The temporary visa, on the other hand, may be single or multiple entry.
A single entry visa allows a person to visit Canada only once, stay for six months, and then return home. A multiple entry visa allows a person to enter Canada multiple times before their visa expires and remain in the country for a limited period of time.
Here are examples of the temporary stay visas:
Canada Tourist Visa. The  Visitor Visa or the Tourist visa allows the holder to enter Canada for the purposes of tourism in the country.
Canada Super Visa. The Canadian Super Visa allows parents or grandparents of Canadian citizens or Canadian Permanent Residents to visit their children or grandchildren for an extended stay.
Diplomatic and Official Visa. The Diplomatic and Official visa gives permission to officials and diplomats from foreign countries to enter Canada for official duties and purposes.
Courtesy Visa. The Courtesy visa is given to all those people who do not qualify for a Diplomatic and Official Visa but are considered of importance due to their ranks and positions. This includes for example, members of trade missions or diplomats with touristic intent.
Canada Business Visa. The Business Visa is given to those who are travelling to Canada with business purposes as individuals or as a group of business people.
Visa to Give Birth in Canada. This visa is given to people who fulfill all the criteria to stay temporarily in Canada and who are pregnant and want to give birth in the country. Giving birth in Canada makes the baby automatically a Canadian citizen.
Intending Organ Donors Visa. This visa is given to a person who is traveling to Canada with the purpose of donating an organ to a Canadian citizen or Permanent Resident.
Canada Facilitation Visa. Facilitation Visas are given to Canadian citizens with dual nationalities who do not have a Canadian passport but have a passport of another nationality. The facilitation visa is stamped on the person's other nationality visa due to extreme hardships of the person getting a Canadian passport.
Canada Student Visa. A Canadian student visa is given to those who have an admission from a Canadian university to complete their studies. If you are going to Canada to study for less than 6 months, then you can only get a TRV visa, but for more than 6 months of studies, you will need a Student Visa.
Canada Temporary Work Visa. Canada temporary work visas are given to those people who have a job offer in Canada and will work for up to 6 months. To get this visa, the person must present a valid job offer letter from an employer and qualify for a temporary visa.
Temporary Residence Permit. This permit is for people who need to go to Canada for different purposes but are otherwise not admissible for a Temporary Resident Visa (TRV). This permit is issued only for the length of time that the person needs to be in Canada, for example 2 weeks for a workshop.
Working Holiday Visa. The Canada Working Holiday Visa is given to young people from 30 countries, so they can work in Canada and travel. It is a random selection visa which means that applicants will submit their applications and wait to be randomly selected to apply for the work permit.
Read also: Full List of Cheapest Universities in Australia
Permanent Stay Canadian visas
Permanent stay visas are visas that allow the holder stay in a particular country for a long time. Here are the different types:
1. Immigrant Investor : The Immigrant Investor Program is for individuals with a net worth of at least CAD$800,000 who want to invest in the Canadian economy. They must pay at least CAD$400,000, which the government would refund to them without interest in 5 years.
2. Start up Visa
The Canada Startup Visa is for individuals who plan to contribute to the economy on a personal level. They must have a net worth of at least CAD$300,000 and pledge to own and manage at least one-third of a Canadian company, as well as establish and retain jobs, within three years of arriving in Canada.
3. Self employed person's visa
The Self-employed Persons visa is for people who can start their own businesses and have expertise in finance, sports, culture, or farming. These individuals must show how they can fund the company as well as their expertise in those fields.
4. Quebec Selected Skilled Worker Program
If you have one of the required occupations in Quebec and are fluent in French, you can apply for the Quebec Skilled Worker Program, which will enable you to move and work permanently in the province.
5. Family Sponsorship Program
The Family Sponsorship Visa enables Canadian nationals and Permanent Residents' spouses and adult children to immigrate to Canada permanently.
Canada Express Entry Visa
The Government of Canada created the Canada Express Entry Program, which is an electronic immigration program. It enables people from all over the world to apply for permanent residency in Canada based on their unique skills.
This package includes the following:
Federal Skilled Trades Program (Federal Skilled Trades Program) (FSTP)
2. Provincial Nomination Programs (PNP)
3. Federal Skilled Worker Program (FSWP)
4. Canadian Experience Class
The Federal Skilled Trades Program
This visa type is usually given to people skilled in the following trades:
Crane operators
Carpenters
Aircraft Mechanics
Iron workers
Welders
Machinists
Heavy duty equipments
Federal Skilled Worker Program
The Federal Skilled Worker Program (FSWP) provides visas to people with occupations that are in demand in Canada. You must determine what types of occupations Canada requires at the time you choose to apply and receive the required points.
Provincial Nominations Program
This visa is granted to semi-skilled or low-skilled workers who can contribute to the Canadian economy through their work through the Provincial Nominee Program. Jobs are sent to various Canadian provinces where there is a greater demand for their services.
How to apply for Canadian visa
The Canadian government has made it very simple to learn how to obtain a Canadian visa. They've developed a variety of assessments that require applicants to fill out an online questionnaire to determine their eligibility. You will be asked several questions depending on the type of visa you want, and the system will then tell you whether you should apply or not. It will also give you the required guidance and steps to follow in order to meet all of the requirements.
How to locate the Canadian government website
You must go to their website here to access these questionnaires and determine whether you are qualified for a Canada visa. The website will provide you with various options and tabs from which to choose, but you must pick the Immigration tab.
A drop-down list of choices appears when you hover or click on the Immigration tab. My Application will be the first tab, followed by Visit, Immigrate, Work, Research, and other options. You must choose the one that is appropriate for the visa you wish to apply for. If you want to get a tourist visa, you must click on the Visit tab, as shown in the previous example.
More details will appear after you click on the tab that corresponds to the reason you want to visit Canada and the visa you want to apply for. Regardless of which tab you choose, one of the links will say "Find out if you are eligible" or "Find out if you can apply." This relation must be followed.
You will be directed to a questionnaire where you will be asked several questions. They'll cover everything from your personal details to the reasons you want to visit Canada and your past travel experience. The device will show the results at the end of the questionnaire.
Getting the results
There are different types of results which will say one of these:
You are eligible for the visa you have selected.
You are eligible for a different type of visa that the system will match you with.
You are not eligible for the visa.
If you are eligible for the visa you have chosen, or for a different type of visa, the system will ask for your contact details (usually your email address), and they will give you a package of documents.
A overview of the visa, as well as guidance and information about how to apply, will be included in the documents. They'll even give you a code to use as a guide.
Since you would need to use the reference code to begin your application, it is one of the most important pieces of information on that collection of documents. You will not be allowed to apply without a reference code. The reference code informs the system of the data you provided during your questionnaire, as well as the type of visa you are applying for.
As a result, you must save the email as well as the documents. You can give the reference code to yourself, write it down on your screen, or write it down on a piece of paper, but you must not lose it. You'll have to start the questionnaire process all over again if you do.
Create an online account
It will be specified in the email instructions if you must apply for a Canada visa online or in person. The majority of people would have to apply electronically because the Canadian government is digitizing its records. To do so, you'll need to build an account. There are basically 2 ways you can create an online account:
Using your online banking login since the Canadian Government has partnered with many banks;
Creating a Government of Canada login (GCKey);
You can use whichever one fits you better, since either way you will have to use your banking details to pay the visa fees.
Compile documents
You can begin your application for a visa to Canada once you have logged into your account. Start applying for the visa for which you have been deemed qualified using your reference code. The device will display a list of documents for your Canadian visa application once you enter the reference code. Ensure that you have submitted all these document before submitting your application form.
Pay Your Visa Fees
The system will direct you to the payment page until it has checked that you have submitted all of the necessary documentation. Depending on the type of visa you are applying for, you will have to pay Canada visa fees. Your application will be submitted once that is done.
The application will appear on your account in around 5 business days, and if you apply in person, you will simply need to take those documents to the Canadian Embassy in your home country.
Wait for your application to be processed
Depending on the form of visa, the Canadian Embassy will process your application for two or more weeks. They can also ask for additional documentation or for you to apply your biometrics and participate in an interview.
And if you applied online, you would have to visit the Embassy in person if they request your biometrics and an interview. You must schedule an appointment, or the Embassy will do so on your behalf. You will be required to send your fingerprints and photos, as well as answer questions from a Canadian Embassy official, at your appointment.
The official will decide whether or not you are eligible for a Canadian visa. They will inform you of their decision right after your appointment, or they can notify you later.
Even if you did not have to apply biometrics or go through an interview, all Embassy updates about your visa will be posted on your account, so you must review it frequently.
Submit your international passport
The next step is to apply your passport to the Canadian Embassy if you receive notice that your Canada visa application was effective. This can be done by mailing it, along with processing fees, to the Embassy's address in your country. The processing fees vary from $20 to $50 and must be paid by check or money order, depending on the type of visa you are applying for. You'll still need to arrange for a passport return envelope.
Your passport and fees will be received by Embassy officials, who will stamp your passport with the visa and mail it back to you. If you are told of their decision right after the visa interview, you must pay the processing fees and pick up your passport right away.
You can fly to Canada once you have your visa. You will be required to display your passport and other documents at the point of entry. Officials will examine them and inquire as to why you are traveling to Canada.
They will decide whether or not to let you into the country based on your answer. If officials at the point of entry suspect you may commit crimes or violate your visa restrictions, they have the right to refuse you entry. Only border officials have the authority to determine whether or not you will be able to enter Canada with a Canadian visa.
Let's try and answer questions people ask about Canadian visa…
Can I renew my visa in Canada?
You must apply for a visa extension if your tourist visa in Canada is about to expire and you want to stay longer. A Canada Visitor Record is what it's called.
At least 30 days before your visitor visa expires, you must apply for a visa extension for Canada (visitor record).
You can upgrade your study or work permit to a Visitor Record in addition to extending a tourist visa. A visitor record, on the other hand, is only accessible when you are in Canada.
If you want to leave Canada and come back, you won't be able to do so if you have a visitor record.
2. If I overstay in Canada, what will happen?
If you have overstayed your visa in Canada, the next move is determined by how long you have been in the country.
If you've been a guest for less than 90 days, you can reclaim your status by requesting a Visitor Record and choosing "Restore my status as a visitor."
If you've been in Canada for more than 90 days, you won't be able to apply to get your status restored and will have to leave. It's possible that you won't be able to obtain another Canada visa.
However, you should avoid overstaying your visa in Canada. If you think you'll need to stay longer than your visa allows, apply for a visa extension until your current one expires.
3. What should I do if my visa is rejected?
If your application for a Canada visa is denied, you can reapply at any time as long as your rejection letter does not prohibit you from doing so.
You can reapply only if your circumstances have changed or if you have new details that will help you obtain a Canada visa.
There is no formal procedure for appealing a decision on a tourist visa to Canada. Only refugee and permanent residency applicants are eligible for an appeal. The Immigration Appeal Division is in charge of processing them (IAD).
4. Can I apply for Canadian visa in another country?
In certain cases, the country of residence lacks a Canadian embassy or Visa Application Center. In this scenario, you will need to apply for a Canada visa in another country.
You must, however, apply for a visa only at the Canadian embassy or visa application center responsible for your jurisdiction (ie. for the country you are a legal resident of).
You can also apply for a Canadian visa from Country B if you are from Country A and have a residency permit for Country B.
If you are merely visiting Country B and do not have legal residency there, you must apply at the Canadian embassy or Visa Application Center in your jurisdiction, whether in your home country or elsewhere.
5. Must I do Biometrics for Canadian visa?
Yes, regardless of the type of visa applied for, most visa applicants must have biometrics (fingerprints and a photograph) when applying for a Canada visa.
Your biometrics can be given at a Canadian Visa Application center. You will receive a letter from the Canadian embassy reminding you of the date on which you must have your biometrics. You must pay the biometrics fee when you apply your Canada visa application in order to obtain the letter.
You can apply your biometrics at Visa Application Centers all over the world. To learn more about the fees and facilities offered by the one closest to you, go to their website.
Thanks for taking time to read through this long article on how to apply for Canadian visa. I hope you learnt new things. Kindly help us share this article so others can also learn from it.